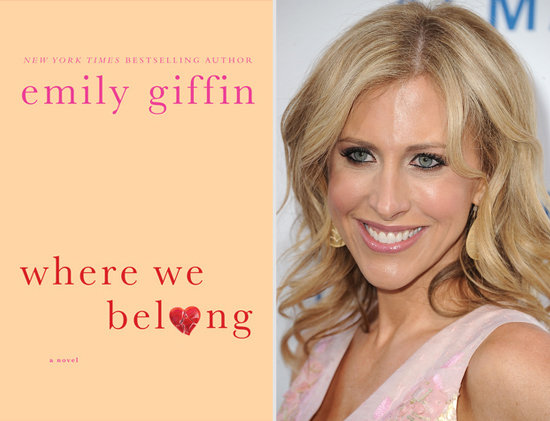 In the wake of her five
New York Times
best-selling novels, Emily Giffin's
Where We Belong
(out today) is one of our
must reads of the season
. Her success kicked off in 2004 with
Something Borrowed
, a story brought to the big screen last year with a film starring
Ginnifer Goodwin
and
Kate Hudson
. Since that first novel, Emily has gained a large, loyal following — both in bookstores and on
Facebook
and
Twitter
, where she keeps in touch with her fans.
Where We Belong follows the story of two women — Marian Caldwell, a 36-year-old TV producer in New York, and 18-year-old Kirby, a high school senior in St. Louis — who are bound by a secret. Emily says she knew early on that the book would be about belonging. Inspired by the power of secrets — when it's justified to keep them and how they change us — she chose to explore those themes through the secretive circumstances of an adoption. I had the opportunity to interview Emily about her new release, upcoming film projects, and her celebrity girl crush.
TrèsSugar: How did you come up with the title Where We Belong?
Emily Giffin: I had a few other titles that would've worked too, so I put them all out there to my friends on Facebook in a poll, and Where We Belong was the favorite. Another choice was Since You've Been Gone, and overwhelmingly, people thought it conjured the Kelly Clarkson song. It's so helpful to have instant feedback from 100,000 people!
TS: This is your first time coming out with a novel that has a teen as one of the main characters. What prompted you to do it?
EG: I've always been drawn to coming-of-age stories and books and movies featuring compelling young characters. My favorite movie of all time is Stand by Me, and I still reread my favorite young-adult books. In fact, the first novel I ever wrote (before Something Borrowed) was a young-adult book, but I was never able to get it published. So writing a young character is something I've wanted to try again for a long time now — and I'd love to do it again.
TS: Kirby was named after our PopSugar TV host, Kirbie! What struck you about her name, and how does it fit the character?
EG: Yes, I met Kirbie at a hair salon in LA during my book tour for Heart of the Matter. She was so cute and bubbly and really seemed like a "Kirbie." I remember telling her I loved her name and wanted to try to work it into a book. When I got home and became more focused on the writing of Where We Belong, I named my character Kirby. I almost changed it because she didn't really seem like a Kirby — but then I thought that contradiction really worked in the story, because Kirby is adopted and deep down, felt that she really didn't belong in her family. Her name was just another example of that disconnect. Bottom line, I love the name!
TS: If Where We Belong heads to the big screen, then who would you like to see cast?
EG: Funny you should ask that, because I just spoke to my film agent, and we're in talks with a wonderful producer now who would be amazing at bringing this story to the big screen in a smart and real way. I haven't yet thought about casting, though. For now, the characters are so vivid in my mind as the "real" people I created, rather than any actor or actress. I'm dying for everyone to read it, though, because I think my readers have always been better at casting than I!
TS: Speaking of the big screen, any updates on Something Blue or Love the One You're With?
EG: Both are looking good, as is Heart of the Matter. It's just such slow process. Getting a script, getting a director, raising the money. It's really hard for movies to get made these days.
TS: Fans know that you adore Jennifer Aniston! Has she ever inspired one of your characters? Which character do you think she'd get along with best?
EG: It would be a dream come true for Jen — I call her Jen so I can feel closer to her — to play a role in one of my movies. I adore her. I think she's a wonderful actress, and I so admire how she constantly hones herself to perfection. I actually felt better about turning 40 this year because of her! She's such a versatile actress that I think she could play a lot of my characters well: Claudia in Baby Proof, Marian in Where We Belong, Valerie in Heart of the Matter. In the casting process, I don't get too hung up on my own physical descriptions. I mean, Kate Hudson looks nothing like the Darcy I wrote about, but I thought she was brilliant in the movie.
Read on for the rest of our interview