American Horror Story Season 4 Spoilers
The Cast, the Characters, and All the AHS: Freak Show Details We Have
We've been dying to know any and all American Horror Story season four details, and a few of the latest ones are big. Sarah Paulson revealed her character (er, characters) on Twitter! So what else do we know about season four of the anthology show? Ryan Murphy has been slowly letting more details loose about the carnival theme, and we recently found out a Hunger Games alum has joined the cast. Here's everything else we've found out about season four of American Horror Story. Read on to find out who will be returning!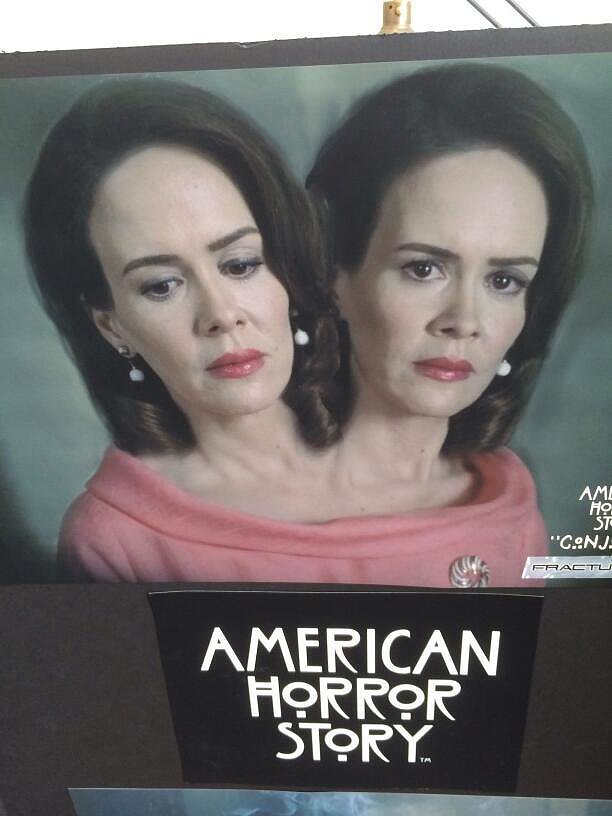 Source: Twitter user MsSarahPaulson
It will be (mostly) set in the 1950s, in Jupiter, FL. In an interview with Entertainment Weekly, Murphy confirmed, "It's set in 1950. If you look historically [at] what happened in the year 1950 — there's some more clues in that year. It's a period piece." Later he claimed to EW, "It's a combination of two time periods, with the main one being the 1950s." At PaleyFest, Murphy said that even though the season is set in Florida, it will shoot in New Orleans.
Jessica Lange will be back — and German. "Jessica Lange playing a German ex-pat who is managing one of the last freak shows in the U.S.," continued EW. "We try and do the opposite of what we've done before," Murphy said in the EW interview. "Jessica Lange has already started practicing her German accent, so I'm very excited!"
Kathy Bates, Sarah Paulson, Evan Peters, Angela Bassett, and Frances Conroy will all return. The American Horror Story players will come back for the fourth season as "performers who Lange has rescued," says EW. Denis O'Hare and Emma Roberts were also announced, and at PaleyFest, Murphy confirmed more Coven cast members transitioning to Freak Show, like Jamie Brewer and Gabourey Sidibe. Murphy also admitted that he is speaking to previous cast members Dylan McDermott and Connie Britton about potential roles, but neither has confirmed yet. See the full cast here.
Paulson's character is a part of the "freak show." She unveiled a picture on Twitter of her as conjoined twins Bette and Dot, joking, "Two heads are better than one!"
There will be new faces. Murphy revealed that Michael Chiklis would be joining the cast at PaleyFest, playing the father of Peters's character and the husband of Bates's. Meanwhile, Wes Bentley will appear as a "tormenter" on the two-part Halloween episode.
The comedy is here to stay. While discussing Coven with EW, Murphy noted, "Next year will be equally as challenging, because so much of it is period and bizarre and crazy and gothic. My feeling is, if you loved this season, you'll love next season. It has the same sort of comedic tone to it."
Next season will NOT have anything to do with Miss Robichaux's. "I would personally never return to something we've done," the creator said to EW. "I'm a little sad to say goodbye to those characters. But next year comes along, and it's a new, exciting batch of people and story, and I think that's the energy and power of the show. I had considered, because I loved writing those women so much, spinning it off, and making it a separate thing. But . . . that's not why I did the show."
It will probably be Lange's last season. Lange has been the backbone of American Horror Story since the beginning, but the actress has decided season four will be her last due to the lengthy time commitment. Costar Peters confirmed to Vulture, "Usually when she says things, she means them, so I would assume that it's the truth."
Front Page Image Source: Getty / Jason LaVeris