Spanish director Pedro Almodovar's The Skin I Live In will be out in the US this Friday, and he was in NYC this week to screen the film during the New York Film Festival. He and his leading man Antonio Banderas linked up for interviews Monday. The thriller is their latest collaboration after a 21-year break from working together; their last project was 1990's Tie Me Up! Tie Me Down!, and Almodovar helped launch Banderas's career with other Spanish-language projects like Matador and Women on the Verge of a Nervous Breakdown. Both spoke about their professional reunion, and Banderas revealed what it's like to fully place his trust with a director. Almodovar, who prefers to work independently in Europe, also spoke about the only two actresses he'd be tempted to work with in English. They said: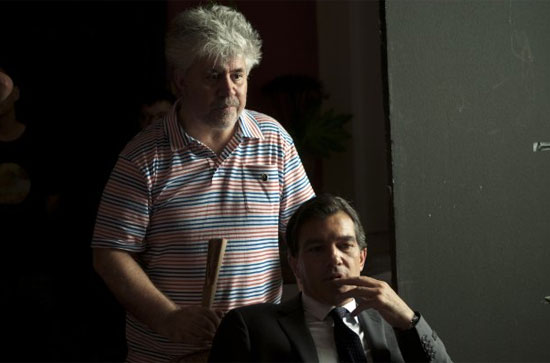 Almodovar on working in English: "I would like to discover Meryl Streep, Kate Winslet . . . no seriously! One of the reasons, if I make a movie in English, one of the reasons will be just to work with many wonderful actresses and actors that are here. Just the two that I mentioned. But that unfortunately the movies will be in English and I would have to improve my English . . . But really I would like to discover in the sense that it would be the first time for me."
Banderas on what it meant to work with Pedro again: "I did what I think any actor who works with Pedro Almodovar should do, which is to take a leap of faith. With Pedro Almodovar especially."
Almodovar on reuniting with Antonio after 21 years: "What was the same was his disposition toward the work. And fortunately, he's still an attractive man. And he's still so at the age of 51 . . . For me, what was fantastic was that during the shooting he was absolutely the same person. I don't know if he is conscious of that. I have pictures from Tie Me Up! Tie Me Down! . . . They are almost the same pictures. The way he behaves with the rest of the crew, or even with me."
To read more about Almodovar not going Hollywood and Banderas on channeling old Hollywood, just read more