One of the rowdiest panels I saw at this year's Comic-Con was the one for Chuck, which included a live performance by Jeffster — aka the show's Vik Sahay and Scott Krinsky. How did it feel to be the singer at the center of all those screaming fans? I recently chatted with Sahay himself to find out. Here are highlights: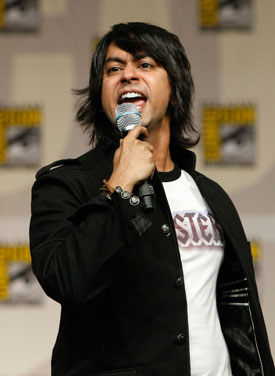 So after rocking Comic-Con, what's the going rate now to book Jeffster?
We now have to pay a little less to perform. That's the rate. I don't think anybody's going to pay us yet! No — it was insane, Comic-Con.
Craziest crowd reception you've ever received?
Well, my family's pretty good. No, I don't think I've ever experienced anything like that.
Chuck fans are obviously well-known for their absolute love of the show. What's it like to be on a show with that kind of fan base?
It's indescribable, honestly. It's so gratifying and moving and overwhelming and kind of startling, and it gets me a little emotional. I remember that I did a show in Canada, and the show got canceled, and I was in a grocery store and some people came up to me and were like, "Hey, are you on that show? Ah, too bad it got canceled." And I was kind of blown away by that! So this — it's just like a tidal wave of feeling. There's so much joy, I think, in the fans.
So I know you talked a bit about the origins of Jeffster at Comic-Con, but how did you get to be the singer?
Good question, after you've heard me sing. I don't know what that bizarro, brainy, brilliant group of writers were thinking. Literally one day, we were shooting some episode and one of them came up to me and said, "Can you sing?" And I was like, "No." And they said, "OK, well, you're gonna."
And what did you feel then?
Utter terror. Pure, violent terror. I thought the idea was so funny, and I was so happy to have more to do, and then I was like, "Oh my God, I have to sing these songs" — you know, I was like, "What's the song?" And they were like, "We'll tell you, we'll tell you." We don't know until the last second, and then I've got to go rehearse and get them down. What I have to do basically is almost close my eyes and jump in with utter abandon.
To find out if he has any dream Jeffster songs and what TV character Sahay thinks is Lester's dramatic counterpart, just read more