In addition to the titles below, The Possession is also available on DVD this week.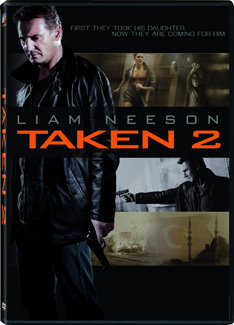 Badass dad Bryan Mills (Liam Neeson) is at it again, this time fighting for his own life. Two years after his daughter Kim (Maggie Grace) was kidnapped overseas, the father of one of Kim's assailants returns to exact vengeance for his murdered son. He takes Bryan and ex-wife (Famke Janssen) hostage in Istanbul, and Kim must sharpen her own set of skills to help her parents escape. Though Neeson is spry as ever, the sequel to 2008's sleeper hit is sloppy and overly silly. DVD extras include an alternate ending, deleted scenes, and making-of featurettes.
Die-hard Woody Allen fans might not find the director's latest offering up to snuff, but his signature print is all over this sweet but uneven ensemble piece. The movie features four interweaving stories full of stars; Woody Allen stars as an opera director; Jesse Eisenberg, Ellen Page, and Greta Gerwig form a love triangle; Penelope Cruz is an exotic prostitute, and Roberto Benigni is a man enjoying his 30 seconds of fame. Some of the stories are better than others, but Rome is as beautiful as ever. The DVD comes with one featurette.
Get one more new release after the jump.