In addition to the following releases, The Sitter and Carnage are also now available on DVD.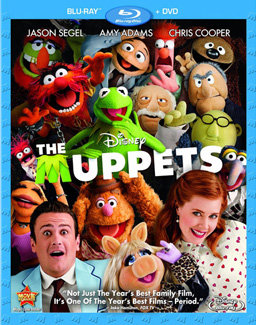 Jason Segel co-wrote and stars in this sequel worthy of Jim Henson's epic franchise. He and Amy Adams play Gary and Mary, a couple who travel to LA only to find that a beloved theater that was once home to the Muppets is being torn down. The two, along with Gary's brother (who happens to be a Muppet), embark on a quest to track down the old Muppet gang in a film that appeals to both adults who grew up with the characters and a new generation of fans. DVD and Blu-ray features include behind-the-scenes featurettes, deleted scenes, spoof trailers, and blooper reels.
The Girl With the Dragon Tattoo
David Fincher directed the first American adaptation of Stieg Larsson's hugely popular Millennium Trilogy. Starring Rooney Mara in the Oscar-nominated title role of Lisbeth Salander, The Girl With the Dragon Tattoo is an enthralling (if slightly disturbing) film that introduces audiences to punk hacker Lisbeth and disgraced journalist Mikael Blomkvist, (Daniel Craig) as they team up to solve a murder in the twisted Vanger family. DVD and Blu-ray come packed with four hours of features including commentary by Fincher and behind-the-scenes footage.
One more new release when you read more