We've already gone over some of today's DVD releases, but in need of a pick-me-up for your iPod, too? The pickings are slim this week, but here's the 411 on the buzziest albums.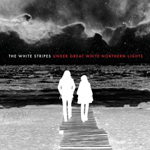 Live and Loud:
To coincide with the release of their documentary
Under Great White Northern Lights
, The White Stripes are releasing an
album of songs from the film
, which they played across Canada during a 2007 tour. The result is an in-your-face, raucous live mix with Jack White wailing on the mic. I especially enjoy his cries of desperation on concert favorite
"Jolene"
and the back-to-back performances of
"We Are Going to Be Friends"
and
"I Just Don't Know What to Do With Myself"
. The album makes you feel like you're there for the head-banging, but more so, it makes me want to catch the band (and the doc) stat so I can actually
see
Jack shred along on the guitar, bloody fingers and all.
Country that kills:
Drive-By Truckers return with their new album,
The Big To-Do
, their first under Dave Matthews's
ATO
label. They're still referencing their usual themes of hard livin' Southern types with a solid mix of rock and country, as they sing about a small-town sex worker on
"Birthday Boy"
or a closed-up club on
"After the Scene Dies."
Oh, and in classic Drive-By style, there's murder to be had on
"The Wig He Made Her Wear,"
where a wife kills her preacher husband, or
"Drag the Lake Charlie."
If corpses really aren't your thing, try the more sensitive
"You Got Another,"
a great ballad about love gone amiss.