Chimpanzee and Freelancers are also available on DVD this week.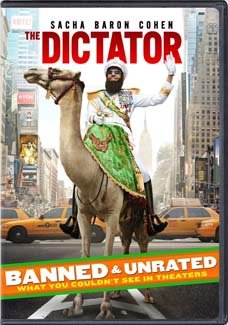 Sacha Baron Cohen plays Admiral General Aladeen, the prejudiced leader of a fictional oppressive country, Wadiya, in this comedy. He comes to visit the United States, and after one of his advisers (Ben Kingsley) betrays him, he assumes a new identity and falls for a hippie shop owner (Anna Faris). Borat director Larry Charles reteamed with Cohen for this offensive yet surprisingly funny comedy in the same vein of Cohen's previous character-driven movies. DVD extras include both unrated and theatrical versions of the film, an ultraviolet copy, a Larry King interview with General Aladeen, and deleted and extended scenes.
Jack Black stars as Bernie, a strange funeral assistant who befriends a wealthy widow (Shirley MacLaine) in rural Texas. A church choir singer and a Sunday school teacher, Bernie's an upstanding member of the community, so it's particularly shocking when the town finds out that his widow friend has been murdered and Bernie is the prime suspect. Matthew McConaughey also stars in the slightly off-kilter dramedy from director Richard Linklater. The DVD comes with deleted scenes and three featurettes.
One more release when you read more