We're in the midst of perfect movie watching season, and if all you want to do is make a you-sized dent in your couch with a new movie, you're in luck. Today is Tuesday, which means new DVDs and music, and there are some particularly entertaining releases this week. And in addition to my picks below, there are also Jeremy Piven's The Goods: Live Hard Sell Hard and animated guinea pig flick G-Force available today as well.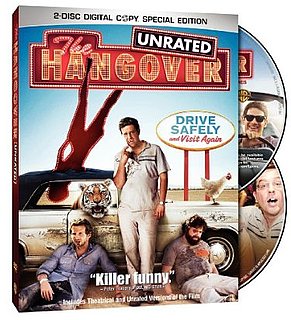 The Hangover
This Summer's smash hit The Hangover won over audiences and critics for its raucous bachelor party story. The buddy pic lets Zach Galifianakis shine as the hilariously inept counterpart to the more straight-laced Ed Helms and Bradley Cooper, as they try to find their buddy (Justin Bartha) after a crazy night in Vegas. I loved the unapologetic male-centric movie, and so did you, it seems — it's running away with my best comedic movie of 2009 poll.
If you've already seen the movie in theaters, the DVD extras may make you want to see it again: there's a montage of Ken Jeong's improv from the movie, some deleted extra scenes, and more photos from the notorious missing camera.

78%
See two more releases when you read more