Another superhero took the stage at Comic-Con, but you've probably never heard of him before. He's Crimson Bolt, a middle-aged guy in a red spandex suit played by Rainn Wilson. Wilson, Ellen Page, Liv Tyler, and Nathan Fillion joined director James Gunn to debut the masked man during the panel for Super, a project which Wilson has supposedly referred to as an "F'ed up, low-rent Watchmen." Personally, I think it's more like Kick Ass for an older audience, but if I've got you curious, keep reading.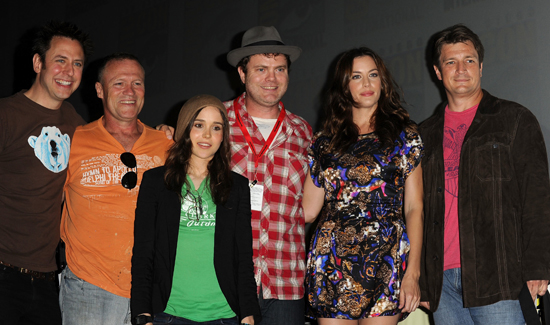 The discussion started with a very early trailer and scene from the film, which takes us through the days leading up to Wilson's transformation into Crimson Bolt. At first, he's just a regular Joe who gets married to the lovely Liv Tyler — until Kevin Bacon swoops in and steals her from him. Ticked off, Wilson decides to adopt his own superhero persona to seek vengeance, wacking people's heads with his weapon of choice — a wrench. First impression: This is a one dark, twisted, bloody comedy.
Ellen Page plays Libby, the Hit Girl to Wilson's Kick Ass, if you will. She's a punky teen with anger issues who Page describes as a "lunatic." But she didn't go the route of most actresses and get fight training; according to Page, her moves are all improv. She also hinted at an intimate scene between her and Wilson in the film, though I can't imagine what that's about.
As for Fillion's character, he's a superhero on TV named the Holy Avenger who becomes Crimson Bolt's mentor of sorts. Fillion said, "He has the power of charisma. It's that 'I really want him' power, but kind of mixed in with the church. Chur-isma." He also wears super-tight pants.
For more on the film straight from the mouths of its stars, read more