All of the new DVD releases hit stores (and Netflix) on Tuesdays. So each week in What to Netflix: New DVD Tuesday, I sort through the best of the batch and tell you what to add to your queue. In addition to the dramas I recommend below, also look out for a couple TV shows on DVD, specifically Brothers and Sisters: Season 3 and Desperate Housewives: Season 5.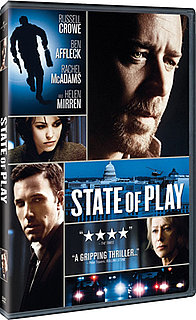 State of Play
I was
impressed by this tense thriller
, which stars
Russell Crowe
as a seasoned reporter and
Ben Affleck
as his congressman friend who gets himself in trouble. There's also
Rachel McAdams
as Crowe's green protégé, who I'm always happy to see on-screen.
Two hours around journalism and politics can sound kind of dry, but this movie's fast-moving plot keeps it engaging and entertaining. Special features on the DVD include deleted scenes and a making-of featurette.

84%
See two other movies out on DVD today when you read more