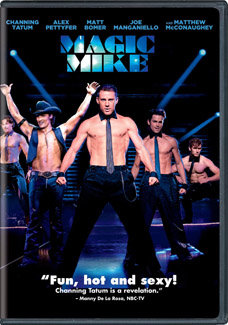 Channing Tatum bares all (or most) in Steven Soderbergh's hit Magic Mike. Tatum plays Mike, the main attraction of a raucous male strip show in Florida. Mike dreams of a career beyond stripping, but his love for the party lifestyle makes it difficult for him to grow up. That changes, however, when he befriends the sister (Cody Horn) of his young protegé (Alex Pettyfer). Matthew McConaughey, Alex Pettyfer, and Joe Manganiello also star in the scandalously fun dramedy. Extras include making-of featurettes and extended dance sequences.
Seeking a Friend for the End of the World
If you had advance notice for the end of the world, what would you do? Dodge's (Steve Carell) job and marriage have dissolved following the apocalyptic revelation, so Dodge decides to team up with an unlikely aid named Penny (Keira Knightley) to track down the one that got away. The two take a road trip to Delaware to find this elusive woman, though in the process, their bond grows stronger and the film's tone turns from apocalyptic comedy into tender romance. Extras include commentary from director Lorene Scafaria, a behind-the-scenes featurette, and a playlist for the end of the world.
One more release after the jump.