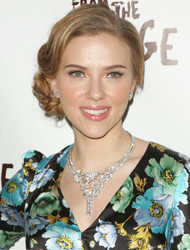 In 1999,
Stanley Kubrick's son-in-law found a script
while archiving the late director's papers called
Lunatic at Large
. Today,
Production Weekly is reporting
that
Scarlett Johansson
is attached to the film, alongside actor Sam
Rockwell
.
The story focuses on "Johnnie Sheppard, an ex-carnival worker with serious anger-management issues, and Joyce, a nervous, attractive barfly he picks up in a Hopperesque tavern scene." Oh, and there's plenty of circus folk, including a Midget Monkey Girl — but I think it's safe to assume that Johansson is playing Joyce.