The Three Stooges, Intruders, and Lockout are also available on DVD this week.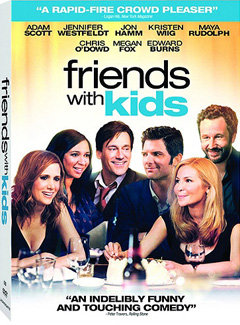 Jennifer Westfeldt stars in, wrote, and directed this comedy. Single Julie (Westfeldt) and her best friend, womanizer Jason (Adam Scott), agree to have a baby together, despite their married friends' warnings. The two love each other platonically but discover that their friendship gets complicated as they raise a child. Jon Hamm, Maya Rudolph, Chris O'Dowd, and Kristen Wiig are hilarious and heartbreaking as their network of friends. Extras include audio commentary, deleted scenes, a gag reel, and a making-of featurette.
Ewan McGregor plays Dr. Alfred Jones, a fisheries expert who accepts the task of bringing fly fishing to the arid land of Yemen at the request of a sheik who enjoys the sport. Though he's skeptical about the project, he's propelled to succeed by the sheik's pretty consultant, Harriet (Emily Blunt). Two featurettes, "Miracles Happen: Making Salmon Fishing in the Yemen" and "The Fisherman in the Middle East: Novelist Paul Torday," are included on the DVD.
One more release when you read more