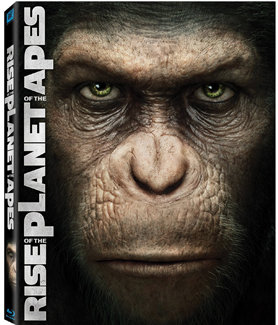 Rise of the Planet of the Apes
In this The Planet of the Apes prequel, James Franco plays a scientist who discovers a drug he's been working on to cure Alzheimer's has a side effect: it makes the apes he's testing it on more intelligent. When he takes home a chimp, Caesar, who exhibits advanced skills, they grow close, but a series of unfortunate events puts Caesar in lock-up. Caesar devises an ape escape and leads a revolution that has deeper consequences on the world. With an unlikely hero and story that tugs on your heart, the film is entertaining fare. DVD extras include deleted scenes and a featurette about Andy Serkis's performance as Caesar.
This animated sequel revisits panda Po (Jack Black) as he returns to the village he was born in and fights enemy Lord Shen (Gary Oldman). The voice actors from the original reprise their roles, including Angelina Jolie, Dustin Hoffman, and Seth Rogen. The movie is cute for kids and adults alike, while the 3D animation is impressive as well. The DVD extras include an episode of new Nickelodeon series Kung Fu Panda: Legends of Awesomeness, a commentary track, a Chinese lesson, and a featurette of Black visiting a zoo.
To see one more new release, just keep reading.