I so wanted The Box to be a worthy successor to Donnie Darko, director Richard Kelly's first film and much-appreciated cult fave. Unfortunately, I didn't exactly get my wish.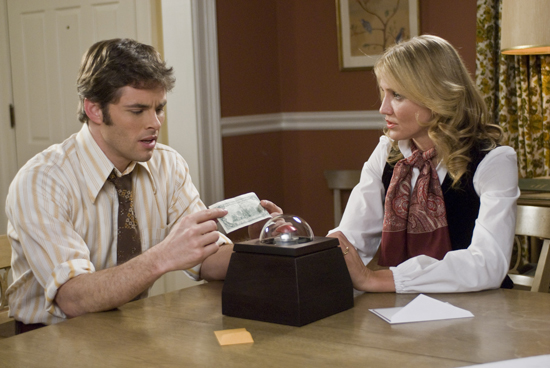 The Box
is a highly stylized, good-looking thriller, from the retro 1976 Virginia setting to the Barbie and Ken looks of leads
Cameron Diaz
and James Marsden. They play husband and wife Arthur and Norma Lewis, who run into a bit of a financial jam when a strange opportunity conveniently presents itself. A creepy, disfigured man (Frank Langella) offers them a million dollars if they push a button inside a box — but a stranger will die if they do.
Kelly has all the right elements and the creativity to give us a hip, entertaining thriller, but there are a number of blatant missteps that make the movie unsatisfying. To see more about what I mean, just read more