The Office returned for its latest season last week with a few changes, including Andy Bernard (Ed Helms) taking over the managerial position vacated by Michael Scott (Steve Carell). Helms joined Paul Lieberstein, who writes for the show in addition to playing human resources manager Toby Flenderson, to talk with reporters about why Andy was the right man for the job. The pair also filled us in on how Andy will deal with Dunder Mifflin's intimidating new CEO Robert California (James Spader), his on-again, off-again girlfriend Erin (Ellie Kemper), and his soon-to-debut brother, who will be played by guest star Josh Groban.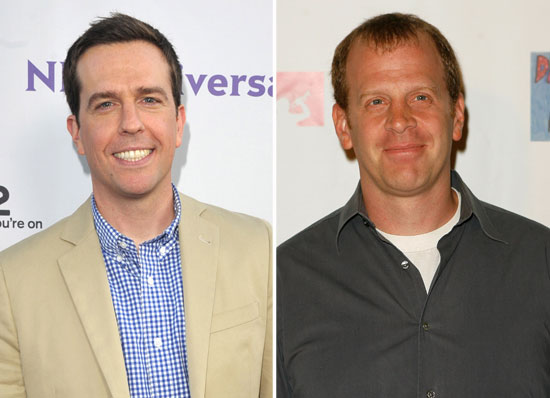 Why did you decide that Andy should be the new manager?
Paul Lieberstein: Well, there are a lot of aspects to the Andy Bernard character to make him extremely suited to manager. One, I think, it's that he cares about people more than he does about the product. Of course, he wants the place to run successfully. Andy is really caring and empathetic. Any little problem that anybody's having, he would feel very deeply, which makes him very suited to be a comic lead in the show. And his stories are a generator. One of the things we're most delighted about is how Andy manages upward — how both scared he is and courageous he is at the very same time when dealing with Robert California.
To find out what else Helms and Lieberstein had to say about the new season of The Office just read more