The Harry Potter films may have come to an end, but the legacy certainly lives on — and the stars of the franchise are still celebrating. The cast headed to the Wizarding World of Harry Potter in Florida over the weekend to commemorate the release of Harry Potter and the Deathly Hallows Part 2 on DVD, which is in stores now. I caught up with James and Oliver Phelps, who play the mischievous twins, Fred and George Weasley in the series. The brothers shared some of their favorite scenes and fan moments, and revealed one very strange prop that they swiped from the set.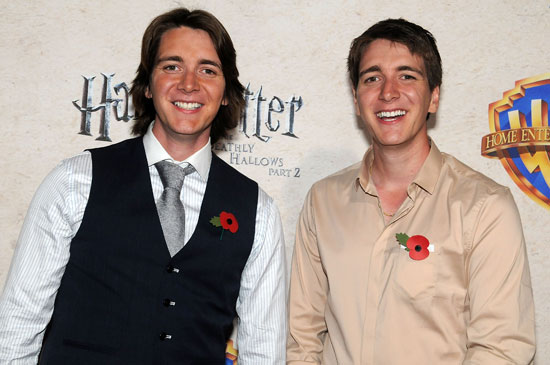 BuzzSugar: Now that the last movie is coming out on DVD, does it feel like Harry Potter is really over?
Oliver Phelps: Not really, no. There's always something else that's happening with Potter. There's this one, then there's the Warner Brothers studio London tour where you can go see the sets and everything, which opens at the end of March. And there will probably be other stuff.
Buzz: What do you miss the most about making the movies, and what do you miss the least?
OP: Miss the least is getting my eyebrows bleached, definitely. But miss the most? I think just the regularity of it. You knew where you were going to be, for a couple of months a year filming Potter, and knowing that that was coming up. [Not having that] takes some getting used to.
JP: What I miss the most is hanging out on someone else's credit card [Laughs]. We are all good friends, so it was just hanging out with your mates. So I'll miss that, but we still keep in contact. What I'll miss least? Maybe the traveling. I'm not a big fan of the traveling. People ask, "If there's one spell you could take, what would it be?" A port key, definitely. Because then I could easily be back in England, and that kind of thing.
Buzz: How surreal was it to film the scene in the final movie where Fred dies?
OP: It wasn't nice. It wasn't nice at all, because one thing we do with [director] David Yates is try to get into the moment, try to relate to something. Which I did, and it came over really well, I think, on camera. But it was weird, not only seeing your pretend brother in the film, but your actual brother, all pale and stiff. I'm glad we didn't have to do that too often.
Buzz: Would you say it was easier to do the scene with your real brother?
OP: It made it easier to do, but probably harder as well to keep it together.
Buzz: Did you get to keep any props from the set?
OP: I wish we did, I really wish we did. I'd love to take the wand, because each wand is individual. They're very strict on having that back, but that would have been great if we were able to keep those. I don't know what I'd do with it. I'd probably put it in a case, put it on my wall or something, but it would be nice to have that piece. I did keep the prosthetic ear, because George loses his ear, which looks really odd. It's at the back of my script. When you open my script, it's stuck there, which looks pretty disgusting.
To see what James and Oliver had to say about growing up on screen and their favorite Potter scene, just read more