Now that Summer is over, some of the 90210 teens are heading back to school, while others, like Michael Steger's character, Navid Shirazi, are facing real-world problems — or at least the type of real-world problems one might face in Beverly Hills. Steger filled us in on how Navid is dealing with running his father's business, the little sister who is posing a big problem for Navid and Silver's sex life, and why some days on the set he feels like he has a backstage pass to a concert. He also shares some scoop on how Adrianna's faring after her suicide attempt last season, and what else you can expect from the season four premiere.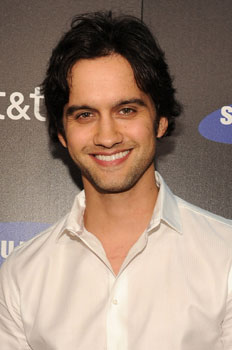 BuzzSugar: Can you tell us what's changed in Navid's life in the upcoming season?
Michael Steger: Last year Navid dealt with the child pornography surrounding my dad's past business ventures that got my father into trouble, so my entire family fled to Switzerland. Coming into season four Navid's without his family. He's forced to run a family business all alone and so far he's reinvented the entire Shirazi Studios. It went from being a porn studio to a legitimate studio, where they do films, commercials, and music videos. It's a big deal.
He ends up moving in with Silver. There are a lot of sacrifices that he has to make in order to run the business. He also ends up working with Silver. They both have an office in the Shirazi production office, so there's a lot of fun stuff that goes on there. And there's one family member of Navid's that decides not to get on the plane to Switzerland and wants to stay in Beverly Hills so she can finish her last year of high school, and that's my younger sister, Leila. She pretty much begs Navid to stay and Navid brings it to Silver and it's the last thing he wants to do because he wants to be alone with Silver. There's really a lot of fun comedic moments between Silver and Leila because all Navid and Silver are thinking about are sex, but they can't have sex because the sister is always there.
BuzzSugar: So Leila's kind of a third wheel in Navid and Silver's new love den?
Michael Steger: Oh, yeah. She's causing a lot of problems because she's full of life and she's always wanting to be out and she forces Navid and Silver to be parents and they're nowhere near that level of maturity.
To see what Steger had to say about new hookups and having musical acts on the set, just read more