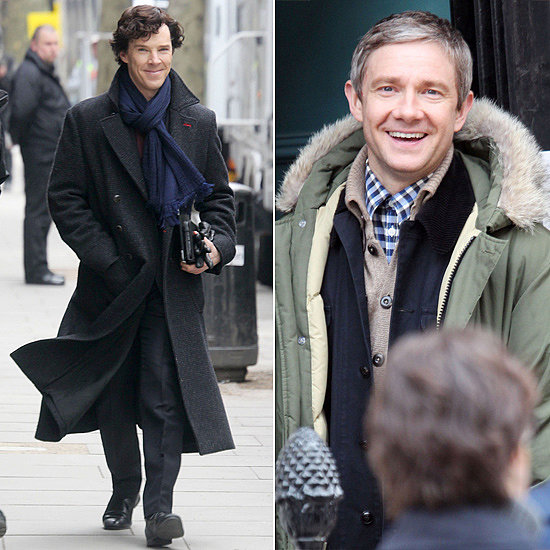 Season three of Sherlock is up and running! After recently confirming the show will return for a fourth season, Benedict Cumberbatch and Martin Freeman, in Sherlock and Watson gear, respectively, have hit the streets of London to film episodes for the new season.
This week, we also learned the title of season three's second episode: "The Sign of Three," likely based on the Sir Arthur Conan Doyle original story The Sign of Four, the case in which Watson meets his future wife, Mary Morstan. The first episode in the series, "The Empty Hearse," is thought to be a take on Doyle's The Empty House, which details the detective's return from the dead.
Producer Sue Vertue took to the web to beg fans who spot the crew out filming on location not to reveal/tweet/Instagram/Vine/all of the above any plot spoilers or specifics on the production's daily location. No show spoilers in the following gallery from the first week of London filming, other than, yes, that is an iPad Benedict is carrying to set, and we'll speculate the other device is a Kindle of some kind. Proceed to the Sherlock extravaganza!