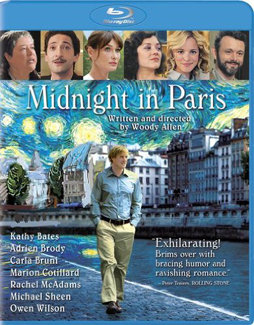 Woody Allen directed this magical film about a starry-eyed writer (Owen Wilson) visiting Paris with his fiancée (Rachel McAdams). When he discovers a way to experience the dreamy Paris of the 1920s and its icons, he questions his happiness in the present day. This romantic movie is a delightful confection that will make you fall for Paris, Wilson, and director Allen (and it's been racking up award season nominations). The DVD includes a featurette about a press conference for the film at the Cannes Film Festival.
Tom Hardy and Joel Edgerton play estranged brothers, one a former soldier and the other a family man hurting for money, in this drama about mixed martial arts. When the brothers end up in the same MMA tournament competing for a cash prize, they are forced to face each other inside the ring, along with their family problems outside of it. The movie has a satisfying emotional punch and a knockout performance from Nick Nolte as the men's father. The extras on the DVDs include deleted scenes, two commentary tracks, and a few making-of featurettes.
See one more new release after the jump.