I am all for a good treadmill workout when it is too hot or too cold to run outside, but these days the temperature has been just right. I have been craving a good interval workout, but not at the track. Nope. For some reason, I have been nostalgic for running suicides. Sprinting from line to line on a basketball or tennis court or a soccer field just like the practices of my youth is a great way to mix up your sprinting workouts. Let me remind you, suicides like sprint interval training, should only be done if you have a solid running base.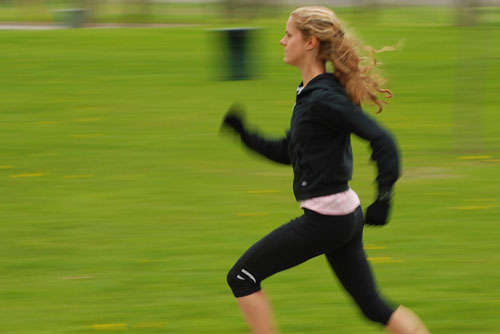 A Suicide Set Defined
If you can find a tennis court basketball court, or soccer field use it! If not, just make your own lines in a field using your gym bag, extra layer, water bottle, etc. to create markers. Make six lines, six yards apart. Or if you are cramped make three lines, six yards apart. For basic suicide (or killers as they are sometime called), start at the first line and sprint to the second line, bend down and touch the line with your hand then return to your starting mark and touch that line (make sure to alternate hands so you work your torso evenly). Sprint to the second line, touch it and sprint back to the start. Keep going, running and touching the next furthest line until you have touched all the lines and returned to your starting mark. That series of sprints is a set.
Now you that you know the basics to see the workout, just read more