The Vampire Diaries stars dished a lot on their characters and where season three will take them at their Comic-Con panel, but no one knows what's next for the supernatural series better than the creator himself, Kevin Williamson. The show's writer and producer sat down for a chat, and he revealed what's going to happen with the Damon/Elena/Stefan love triangle, why he decided to kill off Aunt Jenna, and more.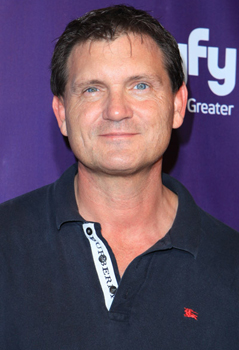 When we pick up, what will happen between Damon and Elena?
Kevin Williamson: Stefan has taken off with Klaus for a greater agenda: Klaus is up to something. And that's sort of the first chapter of our story and what that entails. It'll sort of be Damon and Elena's search for Stefan and how their relationship changes. At the end of season two, Katherine uttered that one line: "It's OK to love both of them," and we'll sort of watch that play out. And what does that mean? It meant one thing for Katherine; what's it going to be for Elena? Because you can love someone brotherly, you can love someone like a friend, and I just think [regarding] romantic love, it may not be OK to love both of them.
I think that's the journey. She's on a big journey, because yes, 100 percent yes, she's attracted to this man [Damon]. Yes, she's in love with Stefan; it's the epic love that's never going to change. So she's going to be torn. It's so tragic, these characters. And Damon is like this reluctant character who doesn't want to be the hero, it's not his role in life, he's not good at it. Elena's going to be there pushing him on to be the hero, but his nature is to kill people, so it's going to be interesting.
Click here to read more from Williamson's interview, including why they got rid of Jenna and whether Bonnie and Jeremy will survive his new ailment.