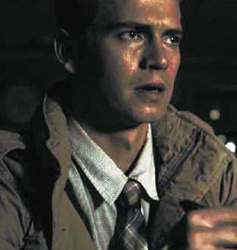 Haven't seen enough apocalyptic thrillers?
Vanishing on 7th Street
is banking on that. The new horror film stars
Hayden Christensen
as a man who wakes up one day to find the world mostly devoid of human life. After a permanent darkness sets in, he finds a few folks to stick with, including
Thandie Newton
and John Leguizamo. It's not just the fact that the lights are out that makes
Vanishing on 7th Street
creepy — predictably, there's something lurking in the dark, hunting our protagonists. While it bears a resemblance to 2007's
I Am Legend
, I wouldn't write it off — director Brad Anderson was also the mastermind behind
The Machinist
and has helmed a handful of episodes of
Fringe
.
To watch the preview, just read more