This season of Once Upon a Time has brought a lot of new things for Jennifer Morrison's character Emma now that the curse has been lifted, including relationships with the parents she didn't know were her parents (Snow White and Prince Charming). Season two has also brought plenty of trouble in the form of Captain Hook, played by new cast member Colin O'Donoghue. I recently visited the set of Once Upon a Time with a few other reporters, and we chatted with Morrison about Hook, their burgeoning romantic tension, and the latest developments for Emma. Read her interview and stay tuned for more from the cast and future episodes!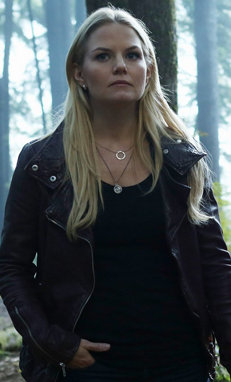 There's some sexual tension between Emma and Hook.
Jennifer Morrison: Yeah, it's been really fun working with Colin and having Emma interact with that character because they're definitely kindred spirits. They're both thieves, and they've come from troubled pasts, and they've both lost a true love, and so I think that there's a lot that they recognize in each other. So there's that camaraderie and also that combativeness with that right away.
Are you hoping they'll get together?
JM: I'm hoping that Emma has some romance in her life. It's been awhile.
Henry's father seemed great too.
JM: Oh yeah, he's great. Michael Raymond-James [who plays Emma's ex, Neal Cassady] is great too. We've been so lucky — we've had so many wonderful people join the show this year. That episode ["Tallahassee"] in particular was really fun, just to be able to show her backstory and show the parallel to what was going on with Hook and all that stuff. And as much as there are similarities in those relationships, those two guys couldn't be any more different, which is also great.
Read the rest of Morrison's interview after the jump.