The countdown to Tron: Legacy has begun! We're only 10 weeks away from the premiere, and to kick things into high gear, Disney has announced Tron Night 2010 which will give you a sneak peek at 20 minutes of footage of the film in IMAX 3D.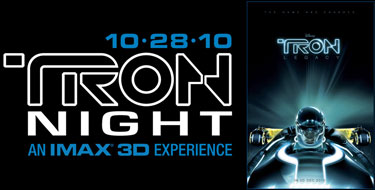 How do you get in on Tron Night? Starting today at 10 a.m. PST, you can
get free tickets
from select theaters (or the
Tron website
), then show up on Oct. 28, to get the first look at
Tron: Legacy
in all its IMAX 3D glory. Tickets can be picked up on a first-come, first-served basis, so be sure to
check back for ticketing locations
near you before you head out to wait in line.