In addition to the following releases, The Do-Deca-Pentathlon and Katy Perry: Part of Me are also available this week.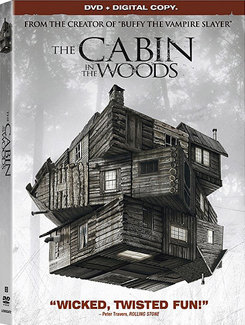 Celebrated cult TV creator Joss Whedon cowrote the horror film The Cabin in the Woods. Chris Hemsworth is Curt, the jocky leader of a group of kids looking to get away for a weekend at a quiet cabin retreat. Instead, they become unwilling participants in a horrifying game for their lives. The movie contains a lot of thriller clichés but manages to be both a terrifying scream-fest and a clever nod to the horror genre. DVD extras include director commentary, a making-of documentary, a "Secret Secret Stash" featurette, interviews with the writer and director, two featurettes about the visual effects, and a digital copy of the film.
The Best Exotic Marigold Hotel
Judi Dench, Maggie Smith, Tom Wilkinson, and Bill Nighy play a group of retiring British folks headed to India for a relaxing vacation. Expecting to find a classy resort, they're initially not too pleased to find that the hotel is less of a posh getaway than they had imagined. The friends stick it out and come to find that though their lodging is a little run-down, there's a magic there that revives their lives. The DVD comes with a "Behind the Story: Lights, Colours, and Smiles" featurette.
See what else is out this week after the jump.