Today at Comic-Con, Warner Bros. provided a closer look at some of its most-anticipated upcoming films. In a packed 90 minutes, we got sneak peeks at Where the Wild Things Are, The Book of Eli, The Box, Jonah Hex, and Sherlock Holmes. The panels were chock-full of celebs, which made for a lot of fan excitement and some interesting questions (including multiple marriage proposals for Megan Fox and Cameron Diaz). Here are my thoughts: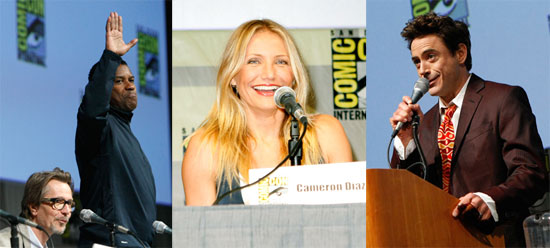 Where the Wild Things Are: We didn't get a full panel and Q&A for this one, but the clips were more than enough to satisfy fans who have been dying to see more of Spike Jonze's newest project. I was so excited to find that the scenes were just as touching and mesmerizing as as the film's trailer. Basically, I can't wait for Oct. 16!
The Book of Eli: This morning I showed you all the trailer for the movie, but having the cast on hand was even better. Denzel Washington and Gary Oldman seemed to have a great relationship — the perfect balance of mutual respect mixed with a lot of goofing around. When asked what it was like to work together, they quipped:


Washington: "It was like good sex. We had a ball together. Sometimes we do the scene as English gentlemen . . ."
Oldman: "Sometimes you do it with the slang African-American, sometimes it's the English gentleman, sometimes it's the thespian . . . like good sex."

It should be awesome to see these two duke it out on the big screen. Oh, and Oldman also revealed that he'll start filming the next Batman next year — adding "But you didn't hear it from me."
Want to hear about The Box, Jonah Hex, and Sherlock Holmes? Of course! Just read more