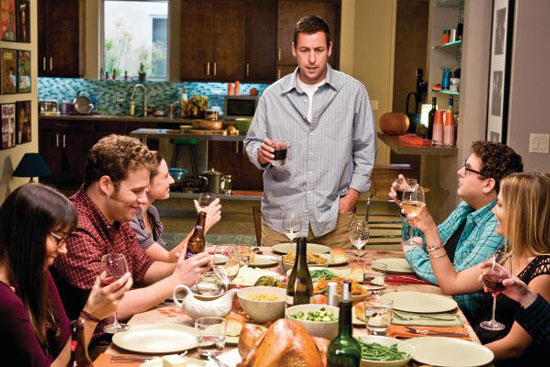 Though the Judd Apatow movie
Funny People
opened in
first place at the box office this weekend
with a respectable $23.4 million, that number is "the lowest tally for a No. 1 film this Summer." It's an interesting season when
Bruno
's opening weekend surpasses that of a Judd Apatow-Adam Sandler-Seth Rogen film.
After the guinea pigs in G-Force took the box office crown from Harry Potter and the Half-Blood Prince last weekend, the two hit films nearly tied this time around with both hovering around the $17 million mark. Harry Potter beat G-Force by less than $1 million. The latest in family-friendly entertainment, Aliens in the Attic, took in a dismal $7.8 million over its opening weekend, though it did come in fifth at the box office, just after The Ugly Truth.
The best news comes from the indie film arena, as 500 Days of Summer and The Hurt Locker continue to have impressive per-screen averages.
Photo courtesy of Universal Pictures