It's still Summer for a few more weeks, so I'm continuing my Five Questions series, where I reflect on the most recent seasons of some favorite shows and chat about their challenges for the future. Today, I'm posing questions for Fringe, which moves to Thursdays for its second season this Fall (check out a little promo after the jump).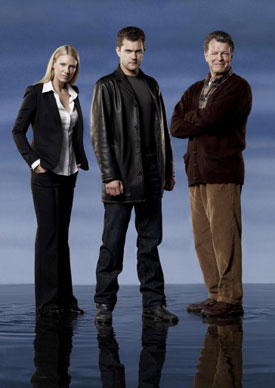 How will the show deal with multiple universes? At Comic-Con and TCA, the show's producers swore up and down that Fringe will keep striving not to be overly complicated. But I'm curious to see how that actually works out now that there's a second universe in play. Will we switch back and forth a lot, or only occasionally? What are the rules of travel between the two? While I'm concerned this could get crazy, it's also one of the main things that has me intrigued and on board for season two.
Will a Thursday time slot be too tough? The show got a pretty solid launch last year, airing first after House and later after American Idol. Now Fox is showing a lot of faith in it by putting it in one of the toughest time slots on television, up against Grey's Anatomy and CSI. Will it be able to grow its audience on Thursdays — or even emerge relatively unscathed?
For my other three questions, just read more