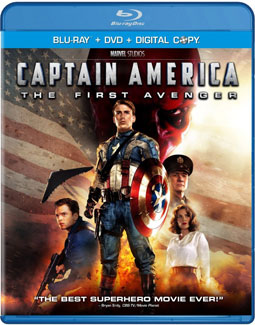 Captain America: The First Avenger
Chris Evans stars as Steve Rogers, a weakling who participates in a government experiment that transforms him into super soldier Captain America. Armed with his newfound powers, he fights on behalf of the US Army to stop German forces — all while finding the time to romance soldier Peggy Carter (Haley Atwell). The film has all the perks of a superhero movie, like intense fight and chase scenes, plus a relatable story about an underdog that's touching without being sappy. DVD extras include deleted scenes and featurettes, including a behind-the-scenes look at Chris Evans's transformation into a superhero.
After serving a prison sentence for selling an exercise product that caused bodily harm, inventor and infomercial personality Robert Axle (Kevin Spacey) finds his once foolproof pitches are out of step with the latest technology. He struggles to rebuild his fortune hawking his latest product, all while trying to reconnect with his ex-wife Lorraine (Virginia Madsen) and daughter Claire (Camilla Belle). While Spacey gives a good performance, the movie misses a lot of comedic opportunities. The DVD includes a behind-the-scenes featurette about the making of the film.
See one more DVD release when you keep reading