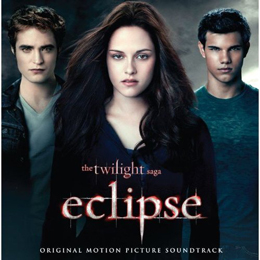 The
Eclipse soundtrack
is released today, and if there's one thing I can tell you, it's this: ignore the preconceptions that a
Twilight
soundtrack must, by definition, be moody. Yes, the
New Moon soundtrack
is a complete mood-fest, but
it's also satisfyingly solid
.
Eclipse
's music shares a lot of similarities with its
New Moon
predecessor: Alexandra Patsavas once again supervised, and each song was written exclusively for
Eclipse
— but unlike
New Moon
, this is far more upbeat and, at times, much lighter.
Leading the pack of the lively tracks is Cee-Lo Green's "What Part of Forever" — my hands-down favorite of the whole soundtrack. It's an unexpected twist on the whole undying love thing — the theme is there, just delivered in a more celebratory package. Vampire Weekend's "Jonathan Low" and Fanfarlo's "Atlas" also provide some buoyancy, as does the bonus track of relatively unknown Bombay Bicycle Club and its "How Can You Swallow So Much Sleep." I even find the Muse contribution "Neutron Star Collision" to be surprisingly euphoric.
But let's be real, there's still plenty of broodiness on this album; to hear about it and what else I liked, just read more