Bringing back a 1960s TV series about a vampire sounds like a perfect job for director Tim Burton, who became a modern master of cinematic goth with movies like Batman, The Nightmare Before Christmas, and Sleepy Hollow. But even with star and frequent collaborator Johnny Depp, the film adaptation of Dark Shadows fails to live up to Burton's previous work. Sadly, it feels more like a lazy, scattered project from someone trying to imitate Burton's style.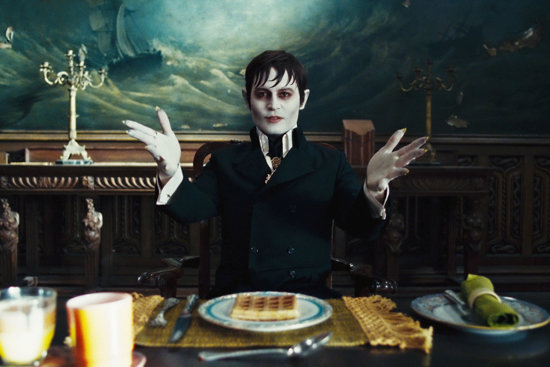 Depp stars as Barnabus Collins, a man who is turned into a vampire in the late 1700s by Angelique (Eva Green), a witch whose heart he has broken. After his loved ones are killed by Angelique, Barnabus is buried for 200 years until he's accidentally dug up. Back in his mansion in the 1970s, he gets acquainted with the existing Collins clan (including Michelle Pfeiffer and Chloë Grace Moretz), and sets about building a relationship with them, reinvigorating the family business, and going head-to-head with Angelique — who's been thriving for centuries. There's certainly a lot going on in, but none of it is compelling enough to make a satisfying movie.
To find out what else I thought of the movie, just keep reading.