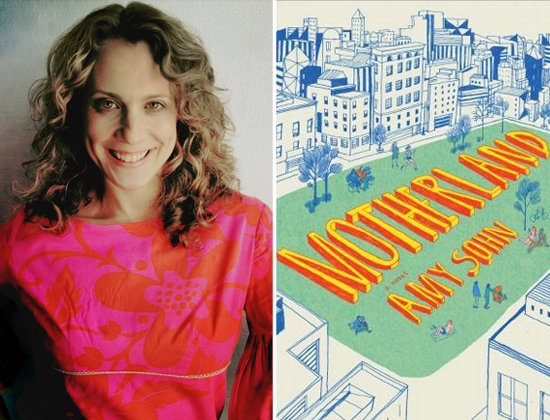 Following her 2009 hit, Prospect Park West, author Amy Sohn is back with a new book, Motherland: A Novel. Amy picks up with some of the same characters, but you don't have to be familiar with the first novel to follow along. Motherland chronicles the adventures of five parents living in Park Slope, Brooklyn, who often turn to alcohol and affairs to face their spouses and life goals after emerging from the black hole of raising an infant. "I really wanted to do something that was at the next phase of being a parent," Amy explains. "If a woman hasn't gone back to work, she might be realizing she's a little bit obsolete and a little bit redundant."
If you're not a mother, you might not expect a novel about motherhood to include passages about smoking pot, underground parties, and Grindr, the gay hookup mobile app. But this book is about parents living in Brooklyn after all. Amy, who raises her family there, still thinks her book captures the universal experience of American parents. Find out what she told us about motherhood, writing her new novel, and whether she's lost the friendships of fellow Brooklyn parents while writing about them.
TrèsSugar: Is it challenging to write about parents in Brooklyn as a parent in Brooklyn yourself?
Amy Sohn: There were always issues about writing about friends and privacy when mining my own life for material.
TS: Do your friends think you're writing about them?
AS: Some of them know that I am.
TS: It probably makes them feel more edgy.
AS: That's the truth. This one woman says that the character Karen is based on her, and it's so funny because not only is she not, but she's not someone I know very well. It's gotten back through the grapevine that she was proudly telling people she was in the book.
TS: How do you think women find a balance between motherhood and having a life separate from their children?
AS: The ones who are really struggling are the ones who can't separate from the child, and a lot of times that leads to very poor discipline. I'm probably in the middle of those two extremes.
TS: So, a big part of the plot is infidelity.
AS: I think infidelity is more rampant than any of us know because women are very good at being private about their affairs. But yeah, infidelity is as old as marriage, right?
TS: Do you think the parenting experiences in the book are specific to New York or Brooklyn, or is it something that moms everywhere can relate to? Just keep reading for Amy's response.