By now you may have heard that Kick-Ass isn't your average comic book-based movie. Instead of your friendly neighborhood heroes who only want to help the innocent, you have a cast of superpower-free renegades who shouldn't be anyone's hero — yet each and every player in Kick-Ass manages to win you over, one filthy word at a time.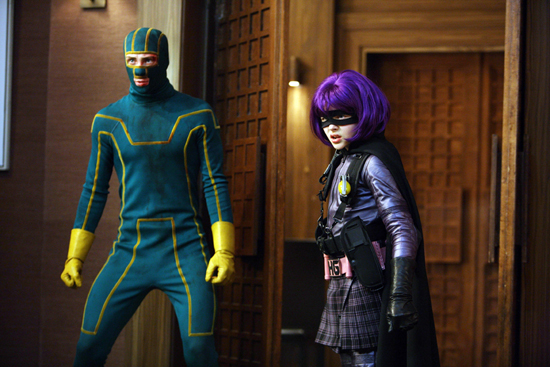 Relative unknown Aaron Johnson stars as nerdy, awkward Dave Lizewski (AKA Kick-Ass), a guy who wonders why no regular person has ever tried to be a superhero. Determined to be the first, he puts on a cheap scuba suit and tries his hand at combating crime. Soon, he finds out that he's not the only masked avenger in town when the true badasses — Hit Girl and Big Daddy — come out to play. Played by
Nicolas Cage
and Chloe Moretz, the father-and-daughter pair are the real fighters who are after crime boss Frank D'Amico.
What follows is a violent, action-filled thrill ride that has you cheering, cringing, and ultimately, wanting more. To hear why, just read more