Ready to ring in the New Year with a few movies to watch at home? I've got some fresh picks for you — and more than one is perfect for a good scare!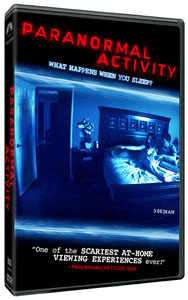 Paranormal Activity
If you're anything like me, then you might have been intrigued, but too terrified to see Paranormal Activity in theaters. Now that it's on DVD, perhaps you'll feel braver about checking out the Blair Witch Project-esque film that features "lost" footage of a couple as they are tormented by other-worldly elements in their home. The movie had one of the most successful viral marketing campaigns of all time earlier this year, so it might be worth checking out just to finally see for yourself what all your friends have been talking about.
DVD extras include an alternate ending and a downloadable digital copy of the film.
See two more releases when you read more