I know we've all been waiting and waiting for some new episodes of The Vampire Diaries, and there are just a few days to go! Now that we've seen a sneak peek of what's to come, here are a few fun quotes I got from the big three — Ian Somerhalder, Paul Wesley, and Nina Dobrev — at the Winter TCA. First take a peek their sexy new Nylon cover, then check out the highlights where they dish on werewolves, alter egos, and upcoming episodes: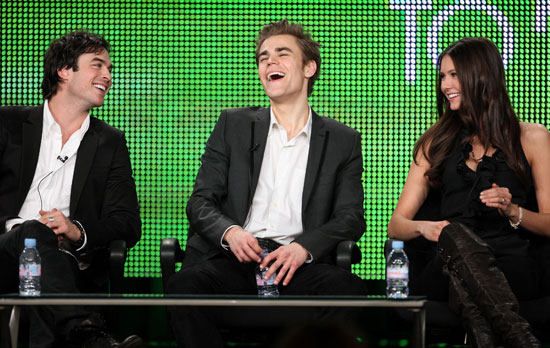 Paul on whether or not we can expect werewolves: "I know that in the books that happens, but it hasn't been confirmed. It's been insinuated, and if you want my personal opinion, I think it would be fantastic."
Nina on what we can expect from Katherine: "There's going to be an episode soon where you see a lot more Katherine. And you see how crazy she is, and how everything she does is for herself. Like boys, and how she likes to use them for her toys. They're just there for her amusement."
Paul on Stefan's dark side: "I want to explore that. I think he indulged as a vampire for a little bit. And now, if things don't go his way, and Damon gets his girl, and things are coming to an end, he may have to resort to violence and some malicious activity."
Ian on what he wants to see from Damon: "I told Kevin [Williamson], I need to find Katherine soon. This brooding, not eating people, not having a lot of power Damon is killing me. I want to be munching. I want power. I want to be flying. I want to be eating people. And I want to be having a blast."
To see what else Nina had to say about what's in store for Katherine and what Ian would be doing if he wasn't an actor, just read more