Kate Walsh and Taye Diggs stopped by last week's TCA in Beverly Hills to chat about season four of Private Practice. Kate quickly joked that these days they're able to divulge more spoilers, saying, "It's no longer the pentagon. It used to be they'd take a digit for every story you told!" With that out of the way, Kate and Taye still don't know exactly whether the relationship between their characters Addison and Sam will be a successful one this season. They also spoke about Shonda Rhimes's vision for the show and how they deal when she takes their characters in surprising directions — as in Addison being with her best friend's ex husband. Here's what a very playful Kate and Taye had to say: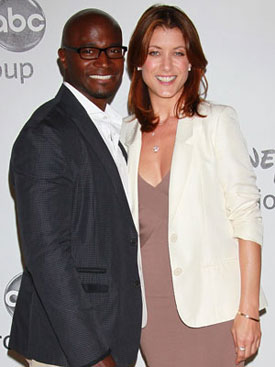 Where do we pick up when Private Practice returns?
Kate Walsh: There is a little bit of a time jump, but we're not clear how much time. I'd say anywhere between three days and three weeks. [Laughs] I got highlights, so it's been some time. A little bit of time and then we ease people back in with the story. There's a lot of coupling.
Taye Diggs: Things have progressed. There's a lot of marriage talk in the air. So some time has passed, enough for that stuff to have evolved.
What is going on in all the relationships when we meet back up with you?
KW: Well there's a wedding, and it's not us! So yeah, Violet and Pete. It's really lovely and amazing. You kind of see throughout the first episode the question is in the air — what about Sam and Addison? What happened with them the last time we saw them? She took her dress off. Someone tweeted that, "Come on, she took her dress off! Something had to happen!" I was like maybe she just got hot. . . .there's nothing you could say without sexual innuendo. So you see where we end up, but it's very ambiguous. All I would say is for that first episode you really want to watch every single minute, including the last couple of minutes. Or you will miss the F out. I can say that, right? I didn't swear I just said F.
TD: Especially the last couple of minutes. Don't miss out.
KW: You don't want to be that person whose TiVo cut it off and you're like wait, what happened? Then you find out the next day.
TD: You have to set it for five extra minutes
KW: Yes! I'd encourage that. I think you're going to enjoy what you see.
For more Private Practice scoop, just read more