It's ABC day for the TCA, and the press tour got a little lighter and funnier when the cast of Mr. Sunshine took the stage. This is Matthew Perry's vehicle, who stars as Ben, the manager of the Sunshine Center, a mid-tier sports arena in San Diego. He was joined by cast members Allison Janney, Nate Torrence, James Lesure, and Andrea Anders, as well as the producers to talk about the new midseason comedy.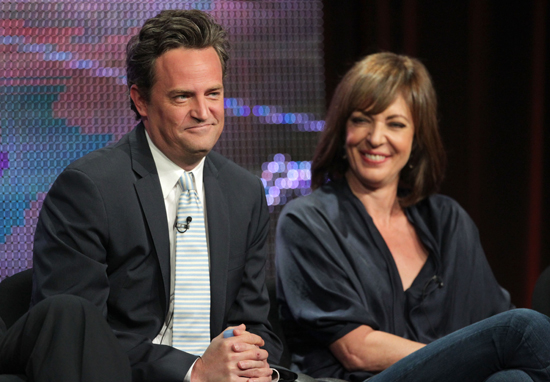 Wondering why the show is set at a sports arena? Perry said because it's exciting — "a place where the most interesting, most insane things happen." The group of employees are like a dysfunctional family, he said, who "have to get it together every night because 18,000 people are showing up."
Allison Janney plays Crystal, the eccentric owner of the Sunshine Center, whom she assured us is the exact opposite of her beloved character C.J. on The West Wing. "I spent seven years being politically correct on The West Wing, and now I get to just be completely wrong on so many levels."
On whether Perry will pull some strings to have former costars — from Friends to Salma Hayek, his love interest in Fools Rush In, Perry said, "Yes, I will probably ask them," as long as it doesn't take away from the new characters. "I don't want to use them as a launching pad. I want to show these new people and what their lives are like."
To hear more details about Mr. Sunshine, including more Matthew Perry cracks, just read more