Thor hits theaters this Friday, and one of my most memorable moments from last year's Comic-Con was when I had a chance to sit down with the cast to talk about the blockbuster comic book adaptation. Natalie Portman and Kat Dennings talked about what it was like to work with each other, along with Chris Hemsworth and director Kenneth Branagh. Then, Hemsworth talked about taking on — and bulking up for — the role of the God of Thunder.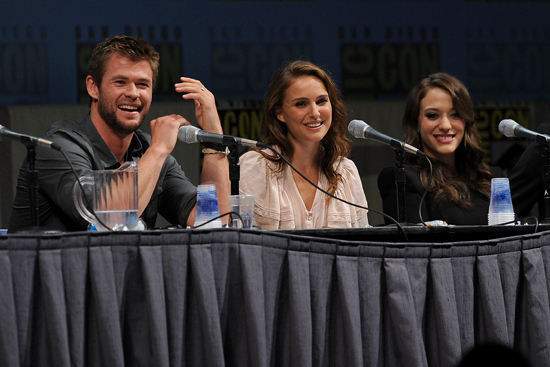 How did Chris Hemsworth stack up as Thor?
Natalie Portman:
Chris is fantastic. He is truly, truly talented. He can do anything. He's got a great sense of humor, he's got great emotional depth. He's a very, very smart guy and he's so nice. He's truly, genuinely, a wonderful person. He's exactly the kind of person who can handle this situation. Because you know it's a big, big deal, and he's able to have perspective, know what it is, and he's so kind. He's just a really great guy.
Kat Dennings: He's got a good family. We met his parents — they're lovely. He's just a good person.
To read more, including what Chris Hemsworth had to say, just read more