Review and Recap of 90210 Episode "What's Past Is Prologue"
90210 "What's Past Is Prologue": Most Scandalous Moments
New relationships are forming on this week's 90210 as Gia and Adrianna are slowly setting themselves up to be more than friends, Navid dates a different girl for a change, and Dixon bonds with his birth mom — even though it may not be the best thing for him.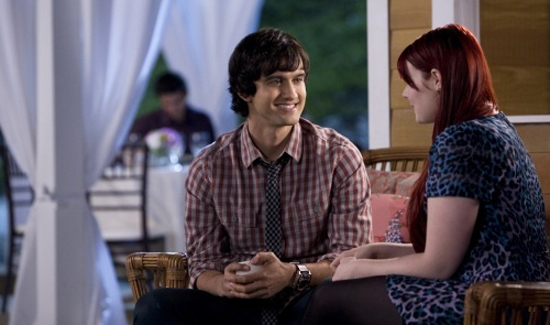 It wasn't exactly a shocking episode, and some of the new storylines they're developing already feel stale, e.g. an all-girl band and gambling addictions, really?! Even so, the last few minutes did give us a couple of OMG-worthy snippets. Ready to cover them all? Take a look, and tell me which surprised you most when you read more.
Navid kisses another girl. Pressured by the boys to move on from Adrianna, Navid asks out Lila from The Blaze. The two apparently hit it off — even though I didn't sense the chemistry through Lila's stiff laughter — and they close the night with a kiss. Did I mention Adrianna sees it? Navid is on cloud nine, and Adrianna is just devastated. To distract herself, she auditions to sing in an all-girl band (kind of ridiculous, no?), which she nabs. Only thing is, the bassist happens to be Navid's new lady. Ruh-roh.
Dixon's birth mom, the gambler. Things get off to a rocky start with Dixon and his birth mom when she can't make conversation, but soon the two are having a chat about basketball at a sports bar. She mentions that she likes to bet some, which prompts Dixon to check out online gambling. Oh, and in a mysterious offshoot, Dixon's car goes missing.
Jasper stalks, steals cars. Everywhere Annie goes, Jasper is literally right behind. When she confronts him, he mentions that he destroyed the evidence of her accident — her automobile. It was Jasper who swiped the car!
Silver spies on Teddy. Silver sees red when Teddy's groupies surface, and Naomi suggests that she keep tabs on his email. When a message from a girl named Amy pops up, Silver finds out they're meeting at a coffee shop and sends a spy (Gia) to scope it out. Amy is skanky, but Teddy admits he wants to try monogamy. Knowing she can believe him now, Silver comes clean to him about her snooping, but the issue now is he can't trust her.
Gia admits her crush on Adrianna! After several longing looks (and Adrianna still being shockingly clueless), Gia finally blurts out that she likes her new BFF. Adrianna seems stunned, but judging by next week's promo, we'll see these two testing the waters very soon.
Oh, and let's not forget that Debbie is ticked with Harry this week for not acknowledging that her "feelings are valid." Luckily, she has that hot yoga instructor for support. Which moment from the night was the juiciest in your opinion? Are you excited for the Gia and Adrianna relationship, or bored by it already? Share your thoughts in the comments, or head over to the 90210 Superfans group in the Buzz Community.
Photos courtesy of The CW