Recap of The Office Episode "Andy's Play"
The Office "Andy's Play": Best Lines of the Night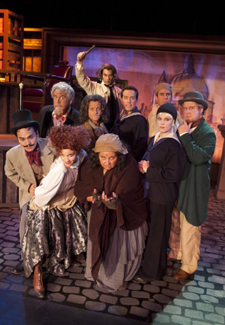 The employees of The Office are rallying behind their own kind lately. Last time it was to support Dwight's mall fiasco, and this week they're championing Andy, whose unbridled passion for singing is finally being put to good use. He's in a local production of Sweeney Todd, so his coworkers have a night out at the theater. But the one person Andy wants there most is M.I.A.: Erin. Even though Gabe's still in the picture, Andy's out to win the receptionist back (yay!).

The episode does an excellent job of showcasing the staff's camaraderie. As for actual plot, there isn't much going on. Erin babysits Cece, Michael breaks theater etiquette, and Angela toys with Dwight's emotions by dressing sexy (sexy for Angela anyway) to get him to like her. Let's relive the funny lines when you read more.
"Women cannot resist a man singing show tunes. It's so powerful even a lot of men can't resist a man singing show tunes." — Andy, talking about his plan to win Erin back
"The last time I went to the theater a man dressed as a cat sat on my lap." — Dwight, explaining his reasons for avoiding theater
"I really wanted to see Andy's play, because he's so, so talented, but I've been trying to get the babysitting gig forever. The 13 year olds in this town have a complete monopoly. It's almost like a babysitter's club." — Erin, on why she's skipping Andy's play to babysit for Jim and Pam
"Unfortunately in this ham-fisted production of Sweeney Todd the real terror comes from the vocal performances. New paragraph." — Creed (who knew he's a secret theater critic?)
"I silenced it by killing it. I'm a murderer just like you, Sweeney Todd! See, it all connects. Not that I know you're a murderer, my character doesn't know that yet. But I'm suspicious, because of all the razors you have hanging around and the time you spend alone. But you're a barber so that's legit . . . so there's that." — Andy, trying to save face after his phone rings midproduction
"It's like The Hurt Locker." — Jim, as he puts

Cece

in her car seat
What did you think about this episode? Did you like that they left the office? Anyone else laugh at Ryan's giant iPad clock? Speak up in the comments or click on over to The Office community group!
Photo courtesy of NBC