The Office Recap "Secretary's Day"
The Office, "Secretary's Day": Best Lines of the Night
Oh, The Office, why must you do this to us? In its never-ending ride of ups and downs (and more downs), this week's episode — though it had its funnier moments — felt lackluster. It's Secretary's Day for Dunder Mifflin, and as such, the story centers on Erin. Andy is seeing to it that his girlfriend gets recognition, even convincing Michael to take her out for lunch. Michael reluctantly agrees, but when conversation lulls and Michael is pressed with nothing to say, he lets Andy's prior engagement to Angela slip. To put it mildly, it does not go over well.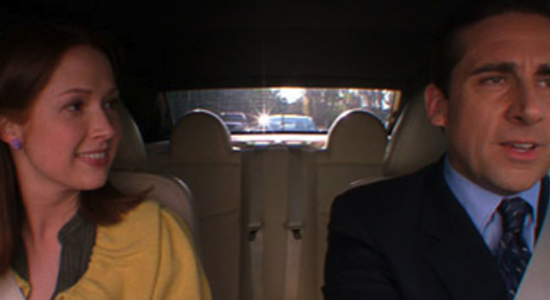 I've grown to like Erin so I didn't mind having her as the show's focus, and a side bit with Kevin as the Cookie Monster kept me chuckling. Even so, the actual lines weren't nearly as funny as I had hoped in their execution. Let's review the ones that did get laughs, shall we?


"They're making fun of Cookie Monster. I get that. But in a strange way, it feels like they're making fun of me." — Kevin
I have to give credit where credit is due, and the Cookie Monster video is brilliant. You just know that Brian Baumgartner was talking to the writers one day, and they thought, "Hey, he sounds just like Cookie Monster." So Oscar makes a clip of the Sesame Street character with Kevin's voice, and the entire office goes into a frenzy by mocking it repeatedly. My favorite copycat by far has to be Jim's amazing impression. Can I please get a copy of that video for myself? And can the writers do a whole Sesame Street series? I'm calling it now: Creed as Oscar the Grouch and Toby as Bert.
For more quips from the night read more.
"My last job was at a Taco Bell Express, but then it became a full Taco Bell, and I don't know, I couldn't keep up." — Erin
It's a great line from a long monologue of questions and thoughts that Erin spews in the car and at the restaurant with Michael. I've got to say, I didn't realize she was quite so strange before, did you?
"In the foster home, my hair was my room." — Erin
Michael mentions to Erin that Andy was engaged to Angela, and she freaks by completely covering her face with her hair at the restaurant. She tries to explain her coping mechanism, and in return, Michael attempts to make light of the situation by announcing to the room of dining customers, the classic line, "I'll have what she's having." Hilarious.
Pam: "Sometimes the heart doesn't know what it wants, until it finds what it wants."
Erin: "I hope you find what you're looking for."
I enjoyed watching Pam trying to comfort an upset Erin after she has a mini-breakdown (and throws cake at Andy). It felt like a sweet moment between older and newer assistant, but best part is the parting line Erin gives Pam, alluding to Jim not being the guy for her — and Pam's surprised reaction. Speaking of Pam, that Dwight bit where he compares her nursing to milking a cow is so creepy! Especially when he starts oiling up his hands with sanitizer. Then to make matters worse, Meredith is using Pam's breast pump in the bathroom. Blech. Slightly funny, but I got my fill of breast feeding gags in the birth episode.
"I think I have to be on my own for a little bit. Like that girl Precious in Precious Based on the Novel Push by Sapphire." — Erin
Noooo! Are the writers really pulling Andy and Erin apart already? Since Erin feels like she can't trust Andy anymore, she breaks up with him by delivering this line to comedic effect. I'm sure we haven't seen the end of them, though. But if they do call it quits, maybe Erin could get together with that stiff corporate guy, Gabe — can't you picture them together? On a side note: Is Gabourey Sidibe's Saturday Night Live episode this weekend the reason for the many Precious mentions? Just a case of cross-promotion?
What'd you think of the episode? Did you have any favorite lines that I left out? And what do you make of Gabe — is he annoying, or funny in his own way? Make your case in the comments, or check out The Office! group to chat some more.
Photos courtesy of NBC