Grey's Anatomy Recap Bad Blood
Grey's Anatomy Rundown, "Bad Blood"
Grey's Anatomy turns into The Hunger Games this week (well, according to Bailey) as some serious changes are made in the wake of the settlement. Cameras are installed to keep a closer eye on all of the procedures, the doctors are forced to attend seminars in order to homogenize their surgical skills, and the ER is about to shut down for good.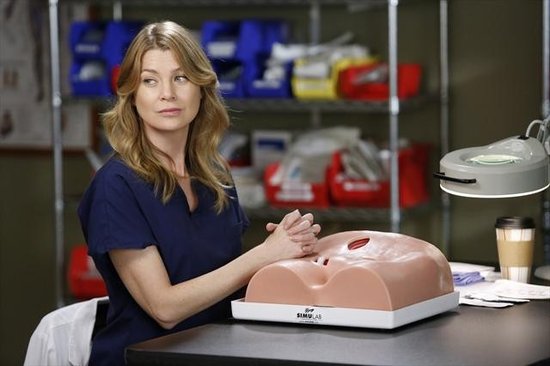 So how do the doctors respond? Cristina wastes no time mouthing off to the "eyes in the sky," Bailey sucks up to ensure her job stability, and Derek and April join forces to keep the ER open. In the end, most of their efforts are for naught, as we learn that the changes are only about to get more radical. Let's break down the big happenings of the episode when you read more.
The doctors are in a tizzy over the Seattle Grace overhaul, but Derek and April throw all their energy into saving the empire. They channel their inner Carrie Mathesons and stay up all night putting together a plan via white board. Unfortunately, April's powers of persuasion don't go over that well, but Derek manages to sweet-talk a few fellow doctors into making necessary budget cuts. The sad realization is that Cahill uses her best "Oh honey" voice to inform that they are selling the hospital no matter what. So basically, this means the doctors in the plane crash are going to buy it back, right?
Bailey, Webber, and Meredith are among the surgeons who spend the episode in Surgery 101, learning how to sync up their hernia-removal skills to maximize efficiency. Bailey immediately recognizes that staff cutbacks are likely and starts sucking up, while Webber refuses to change his procedures after all these years. It quickly becomes apparent that the new Seattle Grace strategy doesn't care much about the needs of their patients, which puts a damper on the whole surgery competition. There is a silver lining to this story line, though: Meredith's baby kicks for the first time! Did anyone else have a moment of panic (and flashback to the episode where Meredith loses her baby) when she initially thinks something is wrong?
Cristina is teamed up with intern Leah this week, and they're put in a typical Grey's situation. A teenager comes into the hospital in need of a blood transfusion, but his status as a Jehovah's Witness prevents the doctors from intervening. Leah is so bent out of shape over this that she tries to secretly sneak in a blood bag. She's caught by HAL Bob behind the camera, and Cristina gives her the adequate scolding she deserves. Here's the thing: is Leah's idea really any different than the time Izzie pulled the plug on Denny or a boatload of other times the Seattle Grace doctors broke protocol to save a patient? Maybe they should have had cameras all along.
What did you think of this week's episode?