In addition to the following releases, Jack and Jill is also now available on DVD.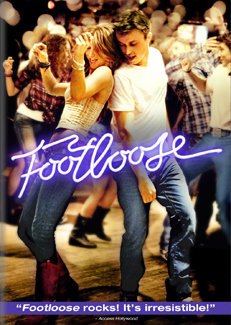 Footloose
In this remake of the 1984 Kevin Bacon classic, young city boy Ren (Kenny Wormald) moves to a small town in the South where unchaperoned dancing is forbidden. It's not long before he's romancing the preacher's daughter (Julianne Hough) and causing trouble in the community. While it shouldn't shock you that Footloose isn't necessarily a cinematic masterpiece, and the story seems a little dated, it's still a fun and entertaining watch. Fans of the original in particular will enjoy all of the throwbacks and nods to the first film. The DVD and Blu-ray extras include deleted scenes, commentary, three making-of featurettes, and a few extra music videos.
Like Crazy
A favorite from a number of 2011 film festivals, Like Crazy is about a British girl (Felicity Jones) who finds love with an American classmate (Anton Yelchin) while studying abroad in the US. After she overstays her visa, she is banned from the country, and the couple is forced to figure out if their relationship is worth all of the stress. If you've ever had to deal with the difficulties of a long distance relationship, Like Crazy is sure to tug at your heartstrings. Both the DVD and Blu-ray extras include deleted scenes and commentary.
One more new release when you read more