Enlisted TV Show Review
Pilot Scoop: Enlisted
Fox has snagged Geoff Stults (that guy you know from Ben & Kate, The Finder, and a ton of other guest roles) to play big brother to a couple of army underachievers (Parker Young and Chris Lowell) in the new Fall comedy, Enlisted. Filled with brotherly love (and hate), plus a little romance courtesy of a fellow sergeant (Angelique Cabral), the series checks a few sitcom stereotype boxes, but does the show's goofy premise work? Find out why we're partial to the new series, debuting as part of this Fall's new TV lineup.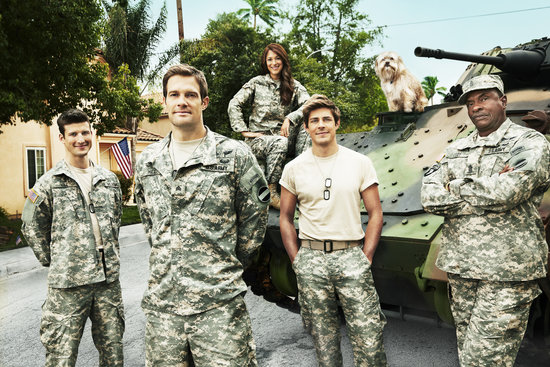 What it's about: Pete (Stults) is an ace soldier, but his overconfidence on the battlefield gets him sent back to the States, and stationed at the same Florida military base are his two younger brothers. Randy (Young) can barely contain his excitement to see his oldest brother while Derrick (Lowell) can barely contain his eye rolls.
Where it works: Stults is solid, but it's Young and Lowell who are the standouts here. Suburgatory audiences know Young as lovable muscle-head Ryan Shay, and his character here is admittedly not much of a departure, but that doesn't make him any less hilarious. Lowell (aka Piz from Veronica Mars!) gets snarky, and his audible grumbles over his brother's return qualify him as Enlisted's curmudgeonly voice of reason.
Where it doesn't: As Pete attempts to get his bearings straight at his new home, he takes it upon himself to train a group of army misfits. They're a colorful group of characters, but the approach (much like in last season's doomed Go On) falls flat. I would much rather see a focus on the relationship between the siblings, rather than dragging in a handful of unnecessary quirky characters.
You might like this show if: You're obsessed with the movie Stripes.
When it's on: Fridays at 9 p.m. on Fox
Watch a preview and see some pictures of Enlisted when you read more.