Celebrity Twitter Tweets About Coachella
Twitter Me This: Who's Tweeting About Coachella?
As you probably deduced from my own personal Twitter, there were a ton of celebrities at Coachella over the weekend — and I wasn't the only one tweeting up a storm. See if you can peg which star penned each of these quotes in this special edition of my Twitter Me This quiz. (And while you're at it, throw some love to H&M on Twitter, who sent me to Coachella in the first place!)
1 of 5
Girl. It's COACHELLA. Don't be drunk on twitter. RT @BonnieMcKeee: Cohella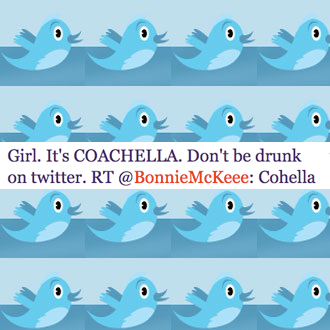 Busy Philipps
Katy Perry
Nicole Richie
Sarah Silverman
2 of 5
I can't decide if Coachella is the Urban Outfitters or Abercrombie + Fitch of concerts.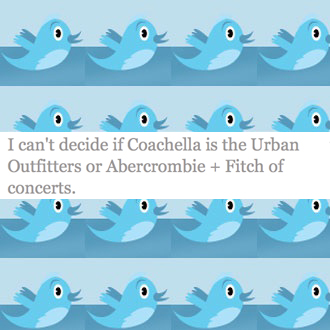 Aziz Ansari
Christina Applegate
Joel McHale
Lake Bell
3 of 5
That clicking sound is the sound of a thousand indie rock girls uploading photos into their "Coachella Craziness!" Facebook folders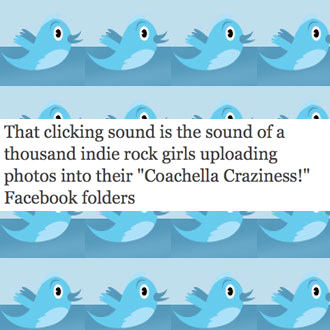 Mindy Kaling
John Mayer
Eli Roth
Kristen Bell
4 of 5
Traffic. Parking. Wristband. Wristband. Wristband. Cocktail. Exhale... LCD Soundsystem!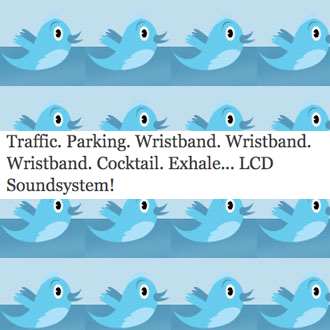 Pete Wentz
Shaun White
Richard Kelly
Jason Reitman
5 of 5
Bold move- uggs at coachella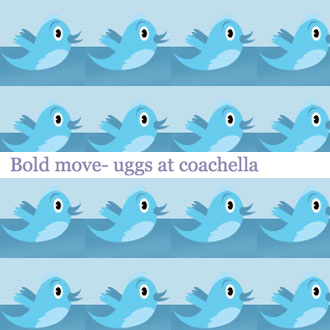 Whitney Port
Hayden Panettiere
Lindsay Lohan
Kim Kardashian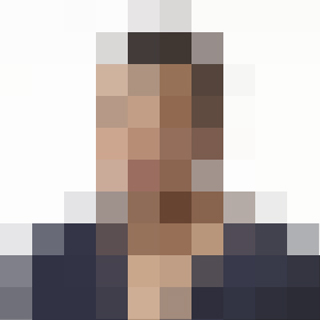 next slidequiz
Friday TV Quiz: Who Said That Line?