Celeb Twitter Quiz About Valentine's Day
Twitter Me This: Valentine's Day Edition
Today's Twitter Me This quiz revolves around the weekend holiday: Valentine's Day! For the loved and hated day, your favorite celebs took to Twitter to express their heartfelt messages to their fans. Can you tell who tweeted what?
1 of 4
"Oh, and Happy Valentine's Day, everyone! I hope you spent some time being open to love, being expressive in your feelings, and cuddling."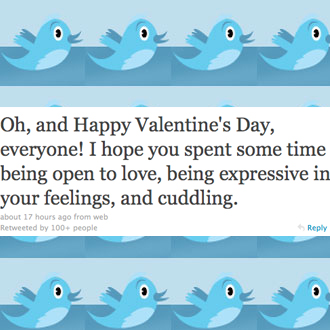 Kristin Chenoweth
Neil Patrick Harris
Ellen DeGeneres
Nicole Richie
2 of 4
"Going deep into the woods to give mother nature a box of russel stovers. And no that's not a poop joke. Happy Valentines Day!"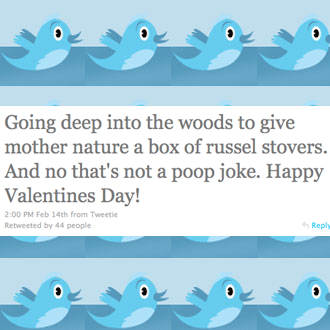 Sarah Silverman
Kevin Smith
Josh Groban
Michael Showalter
3 of 4
"You are the sun, I am the moon, you are the words, I am the tune. Happy Valentine's Day!!"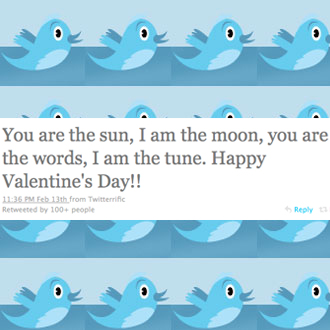 Yoko Ono
Rufus Wainwright
Bob Dylan
Neil Diamond
4 of 4
"Happy Valentine's Day! Safety note: Don't attempt poetry if you don't know what you're doing. You'll regret it later, trust me."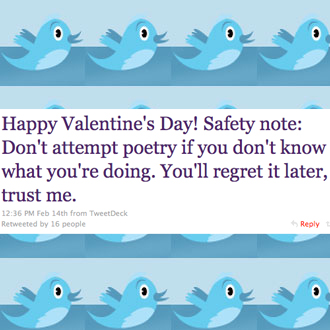 Rob Riggle
Ashton Kutcher
Michael Showalter
Roger Ebert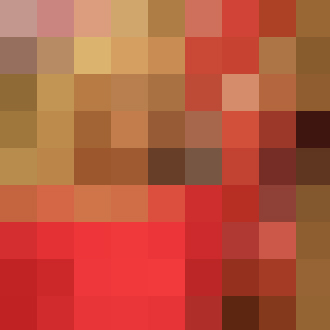 next slidequiz
Friday TV Quiz: Who Said That Line?