This Thursday, wedding bells will ring for Parks and Recreation's beloved couple, Leslie and Ben. Amy Poehler and Adam Scott, who play the pair, chatted with a few reporters, along with show creator Mike Schur, to talk about this week's hour-long dose of Parks and Rec. Read on to find out a few things to expect, like who will be performing at the ceremony and why you should have seen this day coming long ago.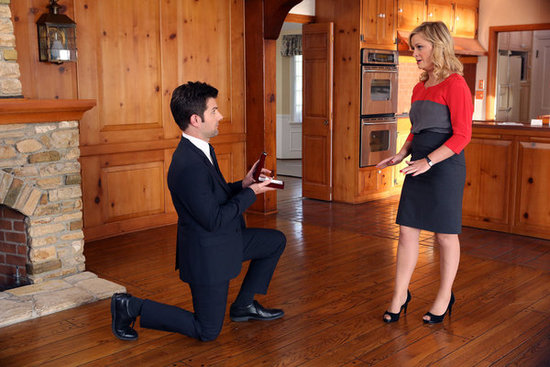 Everyone in the gang will play a special role at the wedding. Schur said, "Everybody has a job to fill, of the main cast. Part of the fun of the episode is that the wedding was originally planned for May, and at this black-tie gala that happened last week, they basically decided to do it that night. So they have two hours to throw it together, so everybody has a role to play. Tom Haverford becomes the officiant, and has to get ordained online in like an hour. Donna plays a role. We're, for the first time, going to feature her beautiful and professionally trained singing voice. We let Retta (who plays Donna) pick which aria she wanted to perform. In the opening moments of the episode, in order to pull this thing off in classic Parks and Rec fashion, everyone has to chip in, so there's a part for everybody to play."
If you watch Adam Scott's first episodes, Ben and Leslie's wedding destiny was foreshadowed. Scott saw the marriage potential between Ben and Leslie early on, saying, "I recently went back and re-watched 'The Master Plan,' which was the first episode that Rob Lowe and I were on. Looking at Leslie and Ben in our first couple of scenes together, it really speaks to the quality of writing of this show that there's a lot of foreshadowing of their relationship, in the sense that these are two three-dimensional characters that really sort of fit together, and they see things in each other that no one else really sees. They hit these buttons with each other right off the bat. From the very start, there was more to it than a simple will-they-or-won't-they. I think that being married now fits in naturally with that."
Find out two more tidbits after the jump.